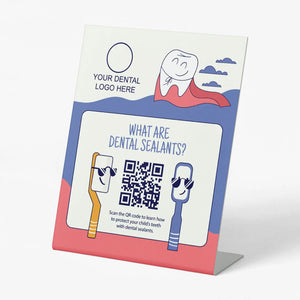 Scannable QR code Sign - Dental Sealants
Our scannable QR code pedestal signs are a modern and efficient way to connect your patients with designated pages.
Easily direct your patients to post-op instructions, promotional offers, and patient education materials with a simple scan from their phone. Save on print production and make the Earth a little greener each time a patient scans these pretty little signs.

Try scanning these signs in our store to see how they work!
After purchase, we will ask you for your practice logo and a designated link on your website.

Need more information?
Click here or email us at hello@toothority.com